When i started with Crossfit i was immediately hooked. The intensity and the varience in training was exactly what i needed after about 25 years of playing basketball on all levels, including 3 years of professional basketball. Also the community was great, a bit crazy but very social and intent on getting stronger and fitter . And the prospect of doing things you never thought you could like a ring musle-up or a handstand push-up was very inticing.
I wanted to know more about Crossfit and the concepts behind it, with in the back of my mind the thought of teaching and helping people get fit by means of, amongst other things, crossfit principles. So an obvious starting point would be to take the Crossfit Level 1 Trainer Course. There were 2 things that stopped me at first:
I didn't actually have a clear goal what to do with it. Although lately i have been rethinking my careerpath or at least looking for a 'hobby' which really excites me.
It's a 1000 dollars! and although valid for 5 years, you have to do the entire weekend over again to renew the certificate so it's quite an investment.
Why did i do it anyway? 2 reasons:
Because i'd rather have the experience of something i'm really excited about and might actually want to do something with in the future, than always wonder what it would have been like if i had done the course. Even if it costs me a 1000 dollars.
And i thought it could also help me with my ongoing journey to help fight off Graves disease
So i wanted to share some of my experiences from that weekend and maybe inspire other people to either take this course or do something they really want but haven't done yet.
Day 1
When you usually work out in a smaller box (Kickstart Crossfit), entering a large gym like they had in Almere came with a 'wow'-factor.
I think i like a smaller box better but very impressive nonetheless (even when portions were under construction).
The days started with the usual administrative checks and getting your T-shirt followed my introducing the coaches and explaining the outline of the course. Then the fun started with the day consisting of about 50% lecture time and 50% active time. Day 1 was about 'what is Crossfit', 'What is fitness', the squats, the presses, technique and lastly about safety. I won't delve into all the individual things, that's too much (feel free to contact me if you have a question). There are 3 things i'd like to highlight from day 1:
The first question was of course how you would explain crossfit. There are a few definitions in the guide:
Constantly Varied Functional Movements executed at High Intensity
Core Strength and Conditioning program
Prepare for the unknown and unknowable
But explaining it like this to people never really works well, you have to show them so i usually show some youtube clips and the conclusion was that you need to let them experience it for themselves and then explain the concepts.
My personal conclusion is that Crossfit is a means to keeping you fit for life by proper nutrition and constantly varying the workouts which contain natural, essential, universal and functional movements and doing them intensly enough for you so that your body will be able to handle everything daily life throws at you. So it's for everyone of all ages, especially for older people who get weaker, then do less and then get even weaker.
The second thing which was a bit of an eyeopener was that the Crossfit Games had nothing to do with Crossfit. Of course that's not entirely true but for the most part it is. Crossfit is not about getting you into shape for the Crossfit Games. It's to prepare you for the unknown and unknowable for the rest of your life. The Crossfit Games is an extravaganza of and for the fittest people on earth which requires more training hours than most people can spend. Don't feel ashamed if you posted a 49.694 rank during the Crossfit Games Qualifiers, you're most likely more fit and have a better health than about 7 billion other people.
The third and last thing were the people there and why they were there (someone from my box asked to check around). I talked to some people, most were there because they want to better understand crossfit and/or start to teach crossfit at a box. But 2 stories stood out:
One guy, who was about my age, had enough of his previous job (electro-engineering) and wanted to something entirely different with sports. He started following a personall training course and added a small workout office to his house. This course was his next stop on his way to start his own small business together with his wife who also took the path to personall trainer. A risky move but very inspiring.
Some else with whom i didn't speak directly but overheard, wanted to help kids with a tough background through sports. Crossfit was, due to the high intensity-factor, very suited to help them get rid of excess energy and frustration.
All in all day 1 was quite immersive and full of information, very enjoyable but i didn't have the energy to cook food, so i ordered a pizza (gluten and dairy free :-)).
Day 2
Day 2 had the same structure as the first day with focus on nutrition, metabolism, welness, diet, Glute Ham Developer, programming, the lift-moves, ring muscle-ups and snatches. We also got to do our first one-on-one coaching when someone did a WOD when performing the medicineball clean. This was really fun and educational and you could see the others' mistakes and how they react to a cue. We also coached eachother with pull-ups and the (scaled) ring muscle up.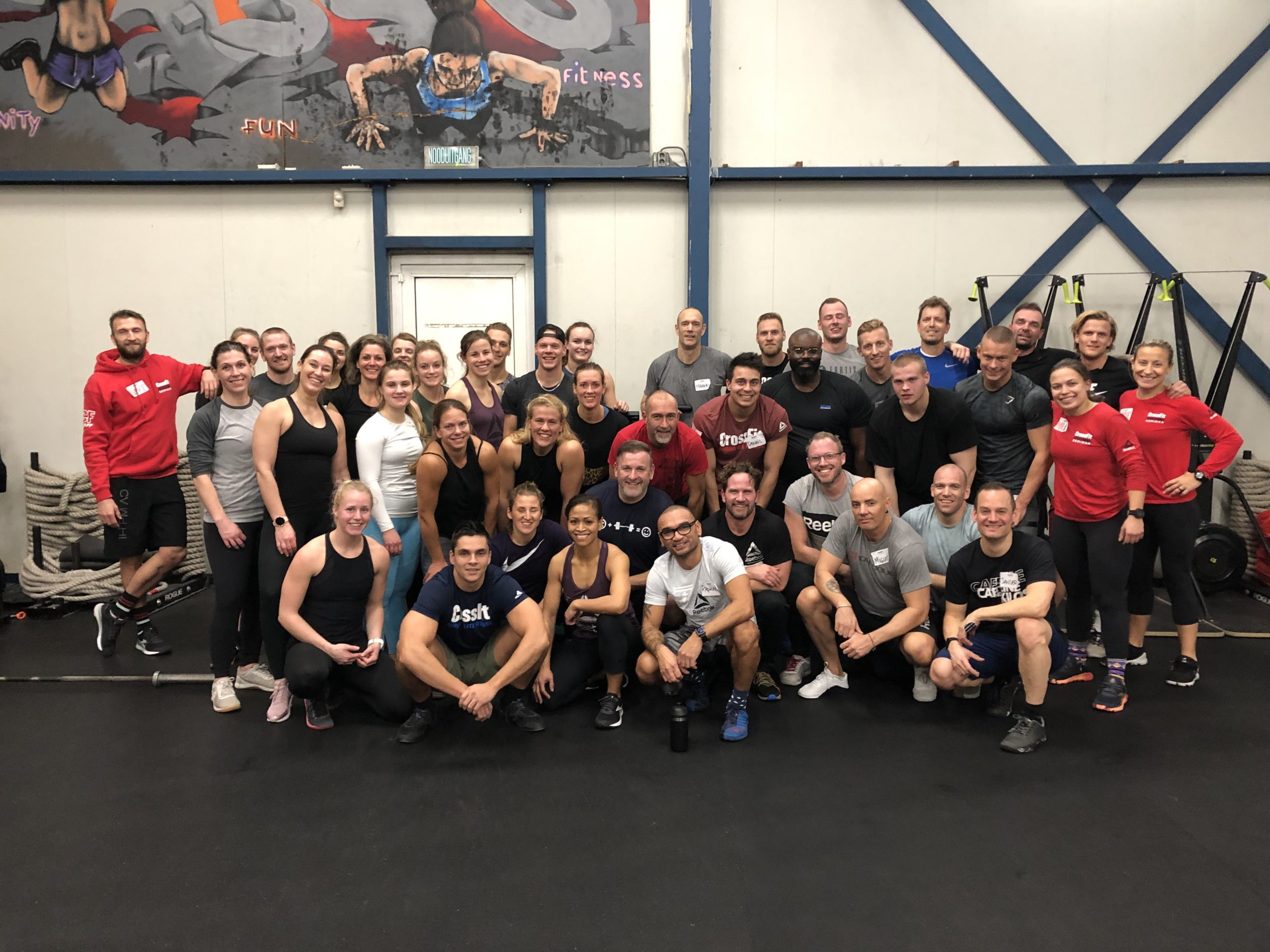 The coaches during the whole weekend were great, highly skilled at coaching and a close team. A great aspect of how they teach, is that they never say that Crossfit is THE way, although it is something they believe in, it's never sold as a golden solution. Secondly I have never been corrected as much as this weekend and at one point i was almost afraid to move because i knew i did not have a vertical back when doing the push-press and push jerk and my timing was off. Luckily i wasn't the only one.
So if i had to make a wordcloud of the corrections i've been given it would be:
Knees out!
No jumping with the shoulder-to-overhead moves! (at 1 point he actually sat on my foot so i wouldn't jump which is had to neurologically unlearn after 25 years of basketball)
Keep your back vertical!
We ended the day (before the exam) with the entire group doing the snatch including the progression (no pulling with the arms!!! ) with the coaches moving around and correcting people.
The Exam
I guess for most people the whole weekend was about getting the certification by passing a 55 multiple question exam and you could almost feel the anxiety when the clock struck 15:30 and personally i was a bit nervous. I had studied quite well by reading the certification guide at least twice and took vigorous notes the whole weekend. There were also some flashcards sites i used [1, 2] for learning the definitions better. Legally i can't say anything about the questions because they'll come after you if you hurt their brand. And rightfully so.
The (paper, yes paper) test itself was in the English language which for me wasn't a problem. But there were people from all walks of life and some had a hard time with actually understanding and interpreting some of the questions. One guy failed to distinguish between 'permitted' and 'forbidden'. So bring an English-Dutch dictionary!
If you paid enough attention and took notes, about 20 to 25 of the questions were relatively easy. Same goes for the moves, if you paid attention and read the guide most of the 'moves' questions were not that hard. But quite some questions were ambiguous and/or used terms that were not specfically mentioned during the lectures or in the guide. So pay attention, read very carefully and make sure you understand every word from the question. Most people that do not make it is not because a lack of knowledge!
Waiting for the result
The last time i was this nervous about a result was when i took my drivers-license when i was 18 but now i also had to wait at least 7 working days for the result. But finally on a friday night i got the result
Damn i was happy! I wanted to see my score but i couldn't find it anywhere, but i guess that's irrelevant.
What's next
After the course (and of course getting my certification) i was really excited to put this newly gained knowledge into practice. It also reaffirmed my feeling that this is something i want to do more with. Hopefully i can get some experience at my box and/or by letting people know about this so i can help someone get (more) fit.
There are loads of specialization cources and the Crossfit Kids course is really interesting but for now i'll focus on some of the online courses.
And after that….we'll see but it's a good feeling to feel excited about something!